How Can You Tell if An Employer Values Diversity and Inclusion in the Workplace? was originally published on uConnect External Content.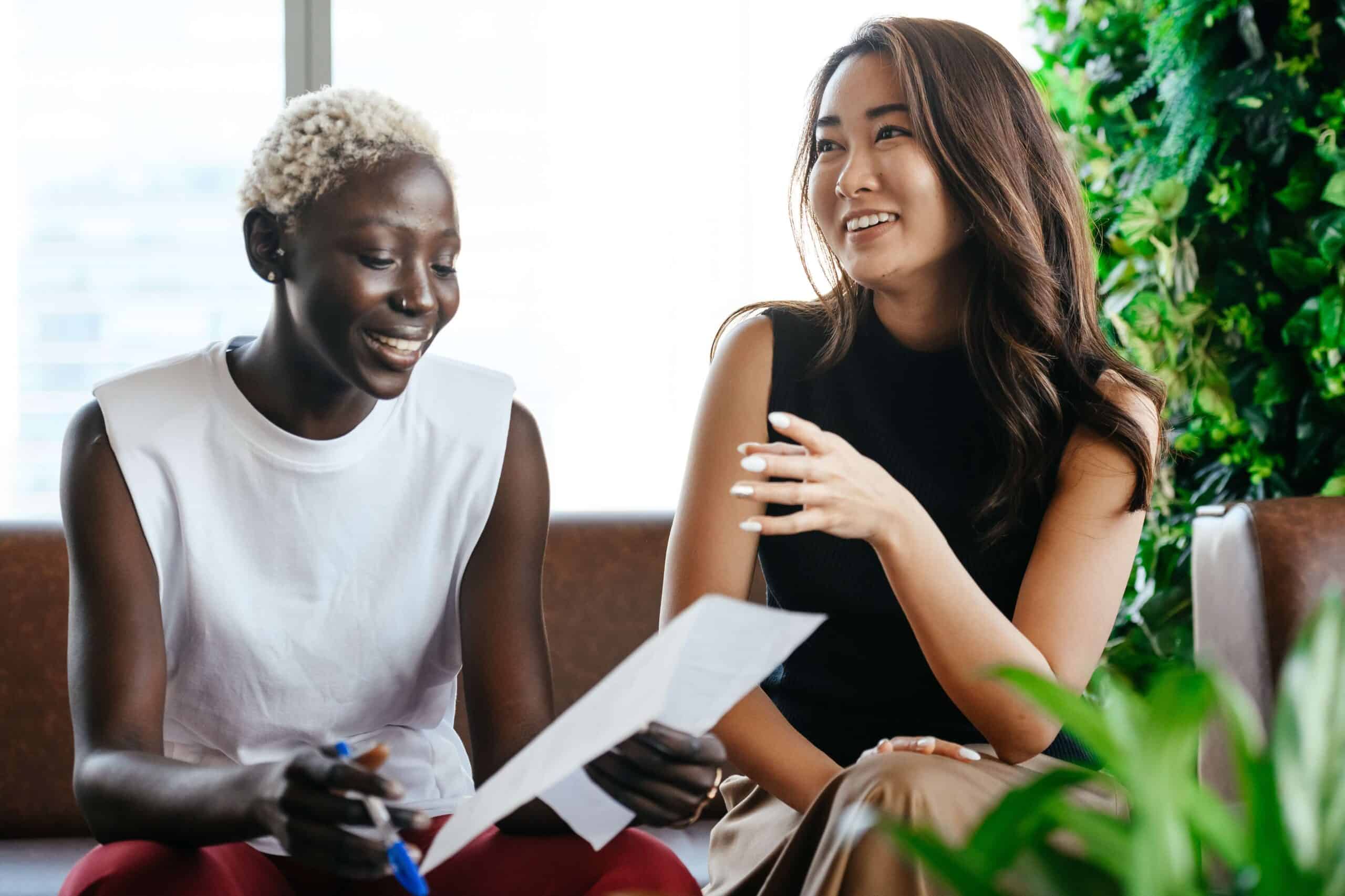 Diversity and inclusion in the workplace can feel like a buzz phrase, but in practice, it's a way to make all employees feel supported and empowered to succeed at work. Some companies do the bare minimum and post pledges on their websites, while others do the real, challenging work and advocate for resources, programs, and training to work through systemic issues. So, how can you tell if an employer actually values diversity and inclusion in the workplace? We'll cover:
What Is Diversity and Inclusion in the Workplace?
Diversity and inclusion in the workplace is two-fold. First, diversity means employing a team of people from all backgrounds, representing different races, genders, religions, ages, sexualities, abilities, socioeconomic backgrounds, caregiver statuses, and more. Inclusion means that all of these people — no matter their background — feel supported, valued, and included at work.
Sometimes, people refer to diversity and inclusion in the workplace as diversity, equity, and inclusion (DEI). Equity means that everyone has fair and unbiased access to opportunities at work.
>>MORE: BCG's Return to Work for Parents and Carers Virtual Experience Program
What Diversity and Inclusion in the Workplace Looks Like
So, what does diversity, equity, and inclusion look like at work?
"DEI in the workplace is successful when the concepts are intentionally integrated into every facet of the organization, from hiring practices, development opportunities, policies and procedures, internal communications to external marketing," says Susie Silver, senior consultant and innovation strategist at The Diversity Movement. "The success also lives through the accountability of every employee in how each person meets another with kindness, empathy and a curious mindset — opposed to a critical one."
How each company implements these diversity and inclusion efforts will look different based on size, industry, and location. For example, a Fortune 500 company will have considerable financial resources and likely lots of staff to dedicate to these efforts, but also many more employees. On the other hand, an early start-up may have less resourcing but can likely make more personal efforts with a smaller staff.
"There's no one-size-fits-all type of ED&I solution," Daniela Herrera, director of recruitment operations and ED&I at R/GA, says. "Equity, inclusion, diversity, accessibility, and belonging will mean something different for every company and they'll implement the systems and processes that best work for them. Some companies might be entirely focused on increasing representation, others on pay equity and transparency, and others are still trying to figure it out. What I can say is that ED&I can't succeed in isolation! ED&I is everyone's job and all strategies and programs must be interconnected."
Get noticed by top recruiters
Explore Forage's free virtual work experience programs.​
Finally, successful diversity and inclusion efforts in the workplace are rooted in a company's strategy — not just something it adds to its website.
"Companies that are doing this effectively don't merely look at DEI as a 'tick in the box' or as the right thing to do, but rather, have greater maturity and see this as a responsible way of doing business and as an imperative for success," says Victoria Pelletier, managing director at Accenture and winner of HSBC's Diversity & Inclusion in Innovation award. "They view DEI as something embedded everywhere in the organization — not just workforce makeup, but the broader ecosystem of clients, products, services, vendors/partners and the community at large."
7 Ways to Tell if An Employer Values Diversity and Inclusion in the Workplace
Now that you know what diversity and inclusion in the workplace is, how can you tell what it looks like during your job search process?
>>MORE: Try using data to shape diversity and inclusion strategy with PwC's Power BI Virtual Experience Program.
Start With the Job Description
Just like you'd start with the job description when applying to a job to know what to include in your resume and cover letter, the description can give you clues as to how embedded DE&I is within the organization.
>>MORE: How to Write an Entry-Level Cover Letter (Example)
Silver recommends looking for inclusive language. For example, instead of a company using binary gendered pronouns like "he/she" and "him/her," using a neutral pronoun like "their" or opting for language like "the employee" or "the team" is more inclusive.
She also keeps an eye out for "flexible holiday policies that include one to three floating holidays. This ensures people of different faiths and spirituality can easily observe and honor holidays or important annual observations," she says.
>>MORE: What Are Fringe Benefits?
Inspect the Website
If companies that aren't doing the actual work for diversity and inclusion in the workplace can stamp a mission statement on their sites, how do you know which is real and which isn't?
Herrera suggests starting with how the company website looks.
"Assess what you see: are there people who look like you? Who dress like you? Is their leadership team diverse? Do they have an ED&I statement? Do they openly share their ED&I data?" she says. "Those are all great indicators, but if you can, you should dig deeper! Pay attention to whether their images have alt-text, if their videos have closed-captioning on, if their website is accessible if they mention the benefits they offer, and whether they openly share salary bands on their job descriptions."
Once you've scoped out the website, it's time to dig deeper into any diversity and inclusion statements it has.
"For public companies, you can easily search the website to view board of director and senior leadership diversity makeup, their ESG reporting and strategy documentation, how they engage in the community itself from a DEI perspective — sponsorship for diversity events, recruiting efforts in underrepresented community populations etc — and whether their products and services are accessible to diverse customers and consumers," Pelletier says. "Sadly, many DEI awards are 'bought' by companies with sponsorship to the organizations rating them. I would ask current and former employees about their perspective and learn more about the initiatives to support diverse talent."
Stalk Its Social Media
Besides the company's website, check out its LinkedIn company page, Instagram, Twitter, TikTok, or any other promotional channels it uses.
>>MORE: How to Find and Reach Out to Recruiters on LinkedIn
"How often do they share content about DEI?" Anthony C. Hood, Ph.D., chief diversity, equity, and inclusion officer of First Horizon Bank, says. "Is it just during special occasions, such as Pride month or MLK Day? The organization's marketing material can also be a good litmus test for how they approach DEI. Does their DEI-related content rely primarily on stock photos, or does it feature actual employees leading DEI-supportive activities?"
If the company is posting pictures of employees, it's a good time to take stock of who's in the photos. While diversity goes far beyond appearance and well into lived experience, this can give you an idea of the makeup of its current workforce.
Look to Leadership
"While companies can claim they are committed to diversity, equity, and inclusion, it's much more impactful when the leadership team is reflective of the company's employees and customers," Dr. Kyle Elliott, MPA, CHES, and career coach, says. "Look for any trends and themes in regard to the tenure of employees, as well as their experience with the company culture."
For example, suppose the company is led by a specific, single demographic of people and all its lower-level employees are diverse. In that case, it may signal a trend in how it promotes and hires people within the company.
"Tone is set at the top," Hood says. "It is important to assess the CEO and executive team's stance on DEI. For example, our CEO took a very public stance to demonstrate our commitment to diversity, equity, and inclusion. Oftentimes, an organization won't make such a public commitment if they aren't willing to back it up with real action and results."
Pay Attention to How It's Handling Layoffs
"Everyone will have a different opinion on what an 'equitable and inclusive layoff notice' looks like, but, in my opinion, companies that don't communicate decisions directly, clearly, openly, and transparently to their employees still have a lot of work to do when it comes to ED&I," Herrera says.
While layoffs can be more about the company's finances, how it lays off its workforce can be telling about its company culture and inclusive practices. Look at news articles, company communications, and what employees have written on social media about the nature of the layoffs.
>>MORE: Can You Ask About Layoffs in an Interview? Yes — Here's How
"I'd also pay attention to the individuals and teams the company decided to layoff," Herrera says. "If a company decided to lay off an entire ED&I, experience, or culture team I'd be weary to join them."
Read Reviews
Reading company reviews on sites like Glassdoor or Comparably can give you insight into personal employee experiences at the company. However, it's crucial to remember that these are just that — personal experiences that might not reflect broader company culture trends.
When looking at reviews, focus on patterns that might tell a story about specific issues, like the company's promotions or salary transparency. You can then arm yourself with questions for the interview on these topics if you want to dig deeper.
>>MORE: Interview Questions, Answered: 'What Are Your Salary Expectations?'
Ask the Right Questions
A great way to tell if a company actually values diversity and inclusion in the workplace is to go to the source during the interview. Be sure you've done your research so you don't ask questions already answered on its website or LinkedIn.
Crush the interview
Forage's virtual work experiences equip you with the skills and experience to speak confidently about the role during interviews.
Patty Bates-Ballard, CEO at WordSmooth, a communication service that helps with corporate diversity and inclusion training, recommends asking questions like:
What are the organization's DEI goals for this year?
How does the organization measure its DEI goals?
How does DEI impact the organization's success?
How will I be held accountable for supporting diversity, equity, and inclusion?
How many hours a year does each employee attend DEI education?
>>MORE: 5 Top Questions to Ask During an Interview
You can also ask questions about things that might not directly relate to its DEI strategy but impacts diversity and inclusion in the workplace. This could include items like the salary and promotion process, employee resource groups (ERGs), and company culture. For example:
How do compensation changes and promotions work at this company?
Do you have ERGs? Which ones?
How would you describe the company culture? If you could change one thing about it, what would it be?
"Something else candidates can look into is how inclusive, intentional, and accessible the interview process is," Herrera says. "Employers that are making sustainable change in this space are paying special attention to their interview and hiring processes to ensure they're as equitable and as un-biased as they can potentially be."
This could mean having accessible interview materials, being flexible with your schedule, avoiding asking identity-specific questions, or offering accommodations.
Diversity and Inclusion in the Workplace: The Bottom Line
Diversity and inclusion in the workplace is more than recruiting a diverse team. It's about uplifting, supporting, and empowering every employee to thrive. A company that truly dedicates itself to this effort will show its work not just on its website but in the job description, social media, media communications, and how it communicates with you during the hiring process — and its current and former employees should speak to these efforts.
Prepare yourself for the world of work and develop soft skills with RateMyApprenticeship/DBL's Work Ready Virtual Experience Program.
Image credit: Alexander Suhorucov / Pexels
The post How Can You Tell if An Employer Values Diversity and Inclusion in the Workplace? appeared first on Forage.