Product marketing management role: an introduction was originally published on uConnect External Content.
Product marketing management role: an introduction
An introduction to core PMM responsibilities such as user research, positioning, product launches and driving product adoption

Anna Wiggins, ex-Google, ex-PayPal, Sr. Director PMM at BlueVinePublished: November 10, 2020
Everyone has their own definition for product marketing and it varies based on company maturity, business model, available resources, and other situational factors.
However, one thing remains constant – product marketing is a highly cross-functional role that is typically in charge of researching, positioning, launching, and driving adoption of a product.
Getting your customer's attention
Beyond the task-based definition, one could say that the purpose of Product Marketing is to remove or to reduce cognitive load for customers. Cognitive Load Theory (CLT) was developed in 1988 by John Swelter and states that working short term memory has a limited capacity. Overloading short-term memory can negatively affect the processing of new information and the creation of long-term memories. In other words, distractions or poor communication can increase cognitive load and higher cognitive load interferes with the ability to learn.
This means that to successfully get customers to pay attention and understand the value of their products, product marketers should strive to decrease cognitive load. Simply put, product marketers need to have a clear value prop, correct positioning, and compelling messaging that make it easy for customers to understand what the product does and why they should use it. If you want to learn more about CLT in marketing, check out this blog post from Sorter.
PMM sits at the intersection of sales, product, marketing & customer success
Your process and deliverables for accomplishing this goal will look different across companies, but you'll likely partner with product management, sales, channel marketing, and customer success teams to make it happen. In more established companies you may also be working with brand, research, and analytics functions. As you can see in the image below, product marketing sits right at the intersection of multiple teams where it works to champion a seamless and memorable customer experience.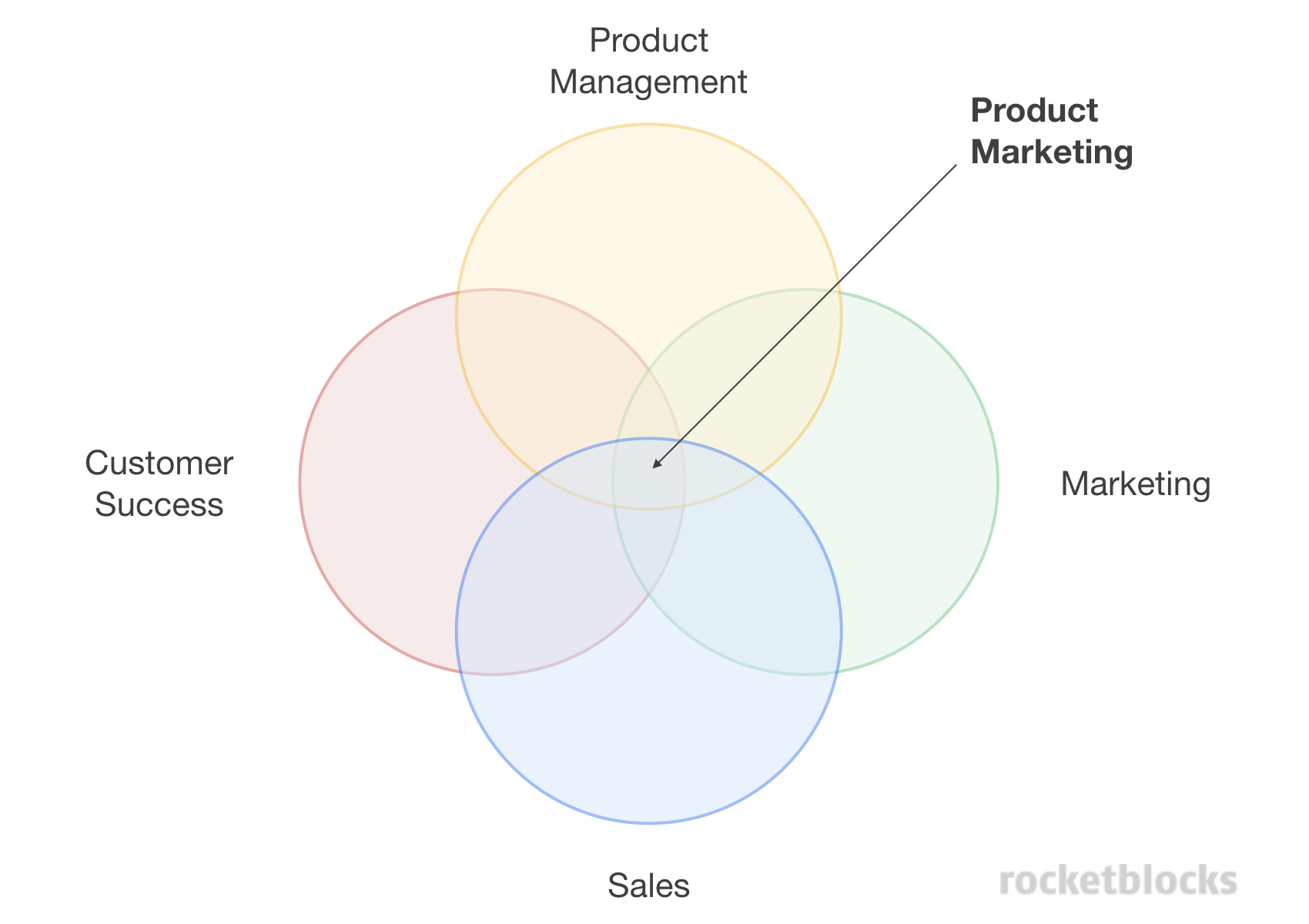 Four key activities for PMMs
Now let's take a closer look at common activities product marketers perform in their role.
1. Research the customers and market
Product marketers gather and synthesize customer insights via quantitative and qualitative research studies. This can be done in-house or outsourced to a research agency and is critical to identifying the target customer, understanding customer needs across product and messaging, and developing marketing segmentation and strategy. Product marketers also analyze competitive intelligence to find and assess market opportunities, create battle cards for sales teams, and drive differentiation, positioning, and pricing.
2. Position and message
Using research, you'll develop customer personas and journeys that help form a demographic, psychographic, and product discovery and usage picture of your target audience. These are important resources for positioning your product in the market and in the mind of your target audience and for knowing what you should say, when you should say it, and how you should say it.
3. Launch the product(s)
Once you've confirmed product market fit, it's time to create a go-to-market strategy and a measurement and execution plan to drive product awareness and adoption with your target audience. You'll be partnering closely with the product on roll-out plans that may include beta testing, Sales on enablement resources, channel marketing on actual GTM execution, and with Customer Success teams on support materials to field customer questions.
4. Educate and drive product adoption
It's important to understand that a product marketer's work continues much further beyond the initial product launch. Product marketers keep a close eye on launch performance and initial customer response so they can understand barriers to adoption, customer confusion, any gaps in experience, and how to accelerate adoption. Using this information they work with Product to optimize the experience and develop customer education programs to ensure adoption.
Example PMM project
🎯 Example: Imagine that you are a PMM for a new mobile app that helps restaurants fulfill curbside pick up orders. You've had moderate traction with different restaurants, but you need to define your target customer so you can focus resources on the segment with the highest potential.
Your first step should be to dive into your data and identify your best customers. For example, you could be looking at restaurants that fulfill the most orders, use the most features, or have the highest net promoter scores. Then you can use a quantitative survey to find statistically significant common characteristics among this group. Many product marketers do this themselves with tools like SurveyMonkey or Typeform or work with a research agency like Ipsos. Make sure to get multiple quotes if you are using an agency. Next, you can collect qualitative customer feedback to add context and color to your quantitative findings.
Let's say that based on your research, you discovered fast-casual restaurant franchises that don't have drive-throughs are having the most success with your software. From quantitative analysis, you know that your target buyer persona is a fast-casual franchise owner located in California with over $500K in annual revenue. In qualitative research, you found out that this group is very concerned with increasing sales volume while keeping operational costs low. You also know that these customers are using Uber Eats and DoorDash in addition to your app and that they need a better integration with their billing system.
As a result of the research, you can now identify your competitive set, position your product in the market, and develop compelling messaging so you can create a go-to-market plan with this group. You can also create objection handling scripts and other sales resources for Sales to pitch prospects. And most importantly, you can identify any barriers to adoption and inform the Product team that this group needs a better billing integration, which will be key to differentiating your product from competitors.
So as you can see, product marketing is a highly impactful function that's directly tied with product success. Product marketers can also bring harmony and alignment to cross-functional teams and how companies engage with their customers. It's a continually evolving discipline that's at the forefront of innovation. And at the end of the day, it's just fun.