What Does Business Casual Really Mean in 2023? was originally published on uConnect External Content.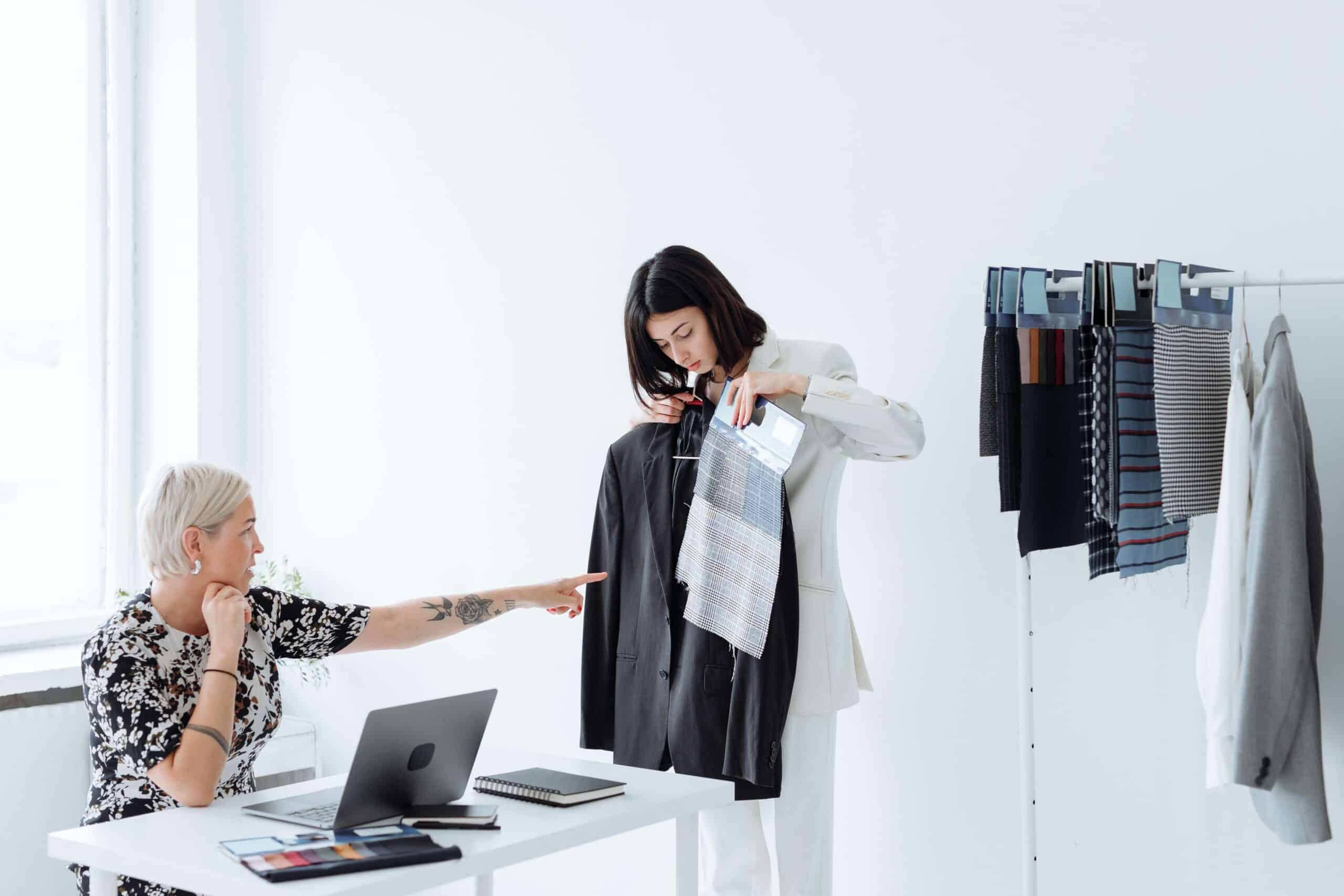 "Business casual" is a straightforward dress code in that the name translates precisely to what it means: a mix of formal and casual clothing. Yet it can be hard to know what's too formal for this dress code and, conversely, what's too casual. In this guide, we'll define what business casual means in practice, how the dress code has changed in recent years, and how to dress for it in 2023. We'll cover:
What Is Business Casual?
Business casual is a dress code that's less formal than business wear but still professional. It's not a suit, but not jeans and a t-shirt, either.
"I consider business casual to be a seamless blend of 'elegant' and 'effortless,'" De Anne Combs, fashion, textile, and travel expert and co-founder of La Peony, an ethical women's luxury clothing collection, says. "It's an upscale look that's chic enough to command attention yet understated enough not to overwhelm."
>>MORE: What to Wear to a Job Interview
MaryKathryn McArthur, lead stylist at Short Story, a DTC retailer and personal styling service helping petite women, agrees that business casual is all about balance — "that harmonious balance between a suit set and weekend wear," she ​​says.
McArthur also believes this dress code allows for more personality and style.
"It brings a level of comfort to the table, not only because you can avoid a stiff suit, but also because you feel more YOU!" she says. "Depending on your workplace, this can mean a pair of black or dark wash jeans paired with a nice blouse that can be elevated with a chic blazer."
However, business casual may look different depending on the workplace. For example, jeans might be more common at a laid-back startup than at a marketing agency where clients regularly visit the office. The best way to determine how formal or casual the dress code is to look for pictures of employees working at the company, which you can find on LinkedIn or the company website. If you're unsure, you should always err on the formal side.
Examples of traditional business casual attire include:
Blouses
Dress shirts
Slacks or khakis
Dress pants
Longer skirts
Dresses
Blazers
How Has Business Casual Changed?
The workplace has changed in countless ways since the start of the pandemic, dress codes included. After many people worked from home and enjoyed the comfort of more casual looks, they kept the emphasis on comfort as they were called back to the office.
"We traded dress pants for leggings and sweats became tailored 'streetwear,'" Combs says. "Even high-heeled pumps transitioned into slides or upscale sneakers. Previously, I wouldn't have envisioned boyfriend jeans or any of the above items working well at an office meeting or birthday brunch. Thanks to some stylish updates, however, they not only work — they're a sophisticated wardrobe choice!"
Stand out from the crowd
Craft a winning resume with Forage's Resume Writing Class.
McArthur believes this focus on comfort has also allowed professionals to "let more of themselves come through" in their workwear, especially if working from home.
"You're going to be discussing millionaire dollar deals one minute, and then feeding your dog the next, so you'll want to feel 100% in your element."
>>MORE: How to Find a Job You Love: 3 Things to Do (and 4 to Avoid)
How to Dress in Business Casual in 2023
So, what does business casual actually look like in 2023, and what should you wear to the office?
What Is Business Casual for Women in 2023?
Fashion experts predict business casual for women in 2023 will be all about accentuating the basics and showing off your unique style.
For example, Giovanni Bordone, professor of fashion at London Metropolitan University, says that dark suits will return to style but "with a different touch, such as a fancy scarf, a pair of funky sneakers or a colorful sweater."
Bordone says women will continue to use suits for "power dressing" in 2023, "but will move into a more personalized and individualized look where the accessories are playing a defining role." This will make the formal "suit" look a little more casual to fit the dress code.
>>MORE: Zoom Interview Attire: What (and What Not) to Wear
So, what items should women wear to fit a business casual dress code in 2023? Some other examples include:
Lightweight fabrics in non-neutral colors (vibrant colors, pastels)
Blazers
Neutral colors with accessories that fit your style
Dresses with jackets
Boots
T-shirts with jackets or a blazer
Flowy, wide-legged pants
What Is Business Casual for Men in 2023?
In 2023, business casual for men will also focus heavily on the "casual," according to Combs. She says we'll see a "return to some fun, old-school elements from the pre-millenium era. Neckties, baggy pants, low-riding waistlines, patchwork fabrics, and denim-on-denim outfits are just some of the latest runway styles."
So what does that mean for those not on the runway (and just in the office hallway)? Examples of business casual trends for men in 2023 include:
Comfortable sweaters
Patterned or non-neutral dress shirts
Relaxed slacks
Simple blazers or jackets
Stylish closed-toe shoes, such as boots
Business Casual in 2023: The Bottom Line
Business casual sticks true to its name: it's a blend of formal and informal wear. To dress in a business casual dress code, you'll need to look professional and put together, but that doesn't mean you need a suit. You can be casual and dress more to your personality — just not the same way you would to lounge around your house on the weekend.
In 2023, business casual is more about the "casual," and trends will encourage professionals to show more of their style in their outfits. To fit the dress code, wear comfortable yet professional items that make you feel confident and ready to take on your work.
Get ready to join the workforce with resume, interview, and professional tips from Forage's personal development virtual experience programs.
Image credit: Thirdman / Pexels
The post What Does Business Casual Really Mean in 2023? appeared first on Forage.